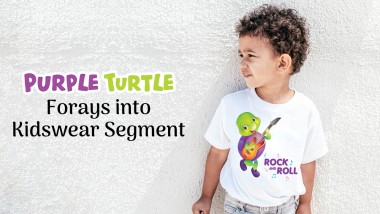 Purple Turtle Forays into Kidswear Segment
Purple Turtle, the leading kids' edutainment brand today has announced its launch of a fresh collection of T-shirts for children ages 2-5. With a view to embrace the joy and magic of childhood, Purple Turtle kids' T-shirts have been made out of skin-friendly fabric—soft, breathable 100% cotton that infants, toddlers and preschool-age children can feel comfortable wearing all through the day. Available in regular fit in three different sizes, these tees come in four bright colours—white, black, blue and yellow. The designs include cute, colourful animal characters seemingly ready to accompany kids on all their day-to-day adventures. "Purple Turtle kids' T-shirts have been designed with fun, comfort and style in mind," says Manish Rajoria, Founder and CEO of Aadarsh Technosoft Pvt., the owner of Purple Turtle IP, "With the amazing response we had from Purple Turtle books and animated series we decided to venture into kidswear. Kids love Purple Turtle stories. Now, they can flaunt their little hero on their outfits.
We are also toying with the idea of having more clothing lines for children, similar to our T-shirts—high-quality, fun, sustainable, gender-neutral, all of which resonates with the spirit of Purple Turtle." Widely known for its children's books and animation series, Purple Turtle has set new benchmarks in early childhood education and development ever since its launch in Frankfurt Book Fair 2013. Within a couple of years, over a million copies of Purple Turtle storybooks and activity books have been sold in more than 25 countries. Purple Turtle Animation Series, a co-production of Telegael (Ireland), Cyber Group Studios (France, USA) and Aadarsh Technosoft (India) is airing on Discovery Kids in the Middle East and Northern Africa. In line with the brand's commitment to ensure children's safety and wellbeing, water-based and non-hazardous inks have been used for printing Purple Turtle kids' T-shirts. Cotton is biodegradable and recyclable so this collection will appeal to climate-conscious modern millennial parents who are increasingly shifting towards sustainable clothing options.